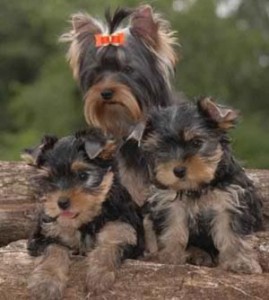 I did a lot of research before deciding to get a Yorkie, also known as a Yorkshire Terrier. All I knew is that I wanted a dog. My husband was working out of town and I wanted a companion. I didn't know what kind of dog I wanted, so I started researching dogs on the internet. I was quick to find that a Yorkie makes a wonderful pet, are especially good with children, and are one of the only breeds that do not shed. I was also quick to find that you don't want just any Yorkie.
There are many Yorkie dog breeders out there that just have "puppy farms". You want to avoid these as many people will just breed them to make money, which is not a good enough reason on its own. The Yorkie can have many health problems if the genetic pool is altered too much. Breeds such as a Teacup Yorkie and Miniature Yorkie are considered "designer dogs" are they can have health issues, such as underdeveloped organs because they are bred to be so little, and they can also have blood sugar problems. The last thing you want is to purchase a cute little teacup Yorkie, only to find out a week or month later that it is going to die.
Make sure you meet the mom and dad of the Yorkie you are purchasing, if possible. I would highly recommend you do this. You can see the demeanor of the Yorkie parents this way, as well as if they are healthy. You can also see what environment the Yorkie has been raised in, to ensure a good pet for you and your family. Read about how I found my Yorkie below, or learn about Yorkshire Terrier Training.
Example of Healthy Yorkie Puppies Playing
How I found my Yorkie – Peachie – aka Princess Peach
When I found Sharon Austin, the breeder I purchased my Yorkie named Peachie (aka "Princess Peach") from, I knew that I was in the right place. I sat down with her and her husband at their home. I met Molly, which is the mommy Yorkie, and also the daddy Yorkie. The litter of puppies were already 4 months old when I met with them. The Yorkies all seemed very healthy and well taken care of. Sharon, the breeder, had lost her mother a couple of days before the pups were born, so the Yorkies didn't end up getting their tails docked or the dewclaws removed because of the circumstances. Which in my own opinion, is it mean to dock the tail anyway.
Sharon loved the Yorkie puppies so much, that she hadn't sold any of them. I barely talked her into selling me Peachie, who at the time was known as "Mighty Mouse" because of her adorably cute and large ears. She said she could tell that I would give her a good home and was caring. Only when I agreed to let Sharon come visit Peachie was she going to sell her to me. She came and visited Peachie about 6 times over the next following months.
You may be asking, why did I pick this particular Yorkie out of the litter? For one, I had already decided I wanted a female, as I can remember my older sister having a Yorkie named Micro when I was younger, and he always wanted to hump my leg when I came to visit her! But Peachie came up to me, and rolled over to have her belly petted. Then, she immediately came and snuggled me in my lap. Instead of me picking out a puppy, I knew Peachie had just picked me out instead!