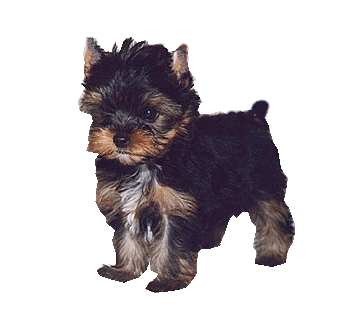 The hardest thing most Yorkie owners have to deal with is Yorkie potty training, also known as Yorkie housebreaking. Yorkshire Terriers, also known as Yorkies, are a little harder to train than some other breeds of dogs. This results from their own nature to work without human assistance. The independent nature of Yorkies make them difficult to housebreak, but if you monitor their diet, as well as be consistent with their training, it will help your Yorkie become much easier to housebreak. All you really need to do is be patient, as well as persistent, with your Yorkshire Terrier and invest a lot of time into training him or her. You have to be very patient and it doesn't just happen overnight. The Yorkie must have time to learn your commands, and you must be persistent to be successful at Yorkshire Terrier Potty Training. Until you get your Yorkie trained to potty on command, you must take them outside every 30 minutes. Also, if your Yorkie just ate, you need to take him or her outside 5 to 10 minutes after they have finished eating. Once you start getting them to potty outside, you must keep them on a schedule for Yorkshire Terrier housebreaking. You have to pay close attention to the clock. I recommend wearing a watch, or write it down to keep track of when you last took your Yorkie outside.
If you have gotten your Yorkie to successfully potty outside, take note of the time. Then take your dog back outside every 30 minutes until he or she potties again. See how many minutes it has been before they potty again. On average, a small young Yorkie needs to potty about every 1 to 1 1/2 hours (60 to 90) minutes. But you cannot wait this long in between times when you first start.
Once your Yorkie catches on to your command and starts peeing or pooping on command, you can then start taking the Yorkie out about every 2 hours (120 minutes). This is the best way to be successful at Yorkie potty training. Although, my Yorkie and Chorkie can wait longer in between times, I still usually take them out every 2 hours since I have the advantage of being able to take them with me to work. Also, they always go outside to potty before and after riding in the car. All the excitement of getting to go bye-bye will make them need to potty. Before bedtime, the Yorkie must go out to potty also. Until you get the puppy Yorkie trained to pee outside, you will need to take them outside at least once during the night. This is an important step for Yorkie housebreaking.

Now, if you do not have the option of paying this much attention to your Yorkie, you must weigh your other options for Yorkshire Terrier potty training, unless you can deal with pee and poop on your floor! You can "crate' your dog for up to 8 hours, like during the night while you are sleeping, or while you are at work. Most of the time, a Yorkie will not potty in its own crate or bed area once they are a little older. My Yorkie and Chorkie have their own "room" in the foyer where they stay the night with their own bed. You should limit access to food and water at bedtime and during the night while Yorkie potty training. Also the following supplies might help you be successful in Yorkie Potty Training.
Potty Training Supplies
Other Potty Training Factors with your Yorkie
If you have a Yorkie that pees on the floor when it gets excited, this is normal, unfortunately. But, as the Yorkie puppy gets older, he or she can control their bladder much better. You can avoid an adult Yorkie peeing on the floor from excitement most always by following the schedule I have stated above. If your dog still has trouble holding it, you could consult your vet as the Yorkie could have a bladder infection, or it could be their diet, discussed in further detail below.
Another huge factor in potty training your dog is their diet! I cannot stress this one enough. If you feed your Yorkie people food, and then expect it to be able to poop on command, you better watch where you step in your house, because I guarantee you they will be off schedule and potty on the floor. Yorkies, especially smaller ones, such as teacup or miniature Yorkies do not have that large of stomach. They digest food differently than large breeds, and it is hard for Yorkies to digest people food. Please do not feed your Yorkie people food or dog treats that are made of beef or pork. Yorkies have trouble digesting these foods and this will really interfere with Yorkie potty training. Click here to purchase healthy Yorkie Food and more information is available about Yorkshire Terrier Training here. We wish you the best luck with Yorkie housebreaking.